WITH A SET LITTERED WITH OBVIOUS TECHNICAL CHALLENGES, HALL AND OATES TRIED AND FAILED TO MAKE THE DREAMS COME TRUE OF THEIR DEVOTED ATTENDEES, HOWEVER, A VALIANT EFFORT WAS MADE DESPITE ADVERSITY.
Daryl Hall and John Oates became prestigious names in the music industry as early as the 1970s. Though their last album was released thirteen years ago, a Christmas collection that didn't gather them any new interest, with a whopping 21 studio albums under the belt and around the same number of massive hit singles, Hall and Oates still sit at the top of the smooth pop-rock game. It would be a challenge to find a westerner who hasn't heard anything from the duo.
Throughout the decades the pair has kept a connected relationship; never supporting the rumors that arose of bad blood between the pair when either undertook a solo-project. As the 1990s ended, Hall and Oates seemed to step back from the machine they had become, constantly churning out records of soul and rhythm-filled rock, pop, and Motown and began taking on more of their own, individual projects. Daryl Hall had always released solo albums alongside his work in the duo whereas John Oates did not release a solo album until 2002. Hall's most notable work away from the pairing is his audio-visual project Live from Daryl's House. This is a streamed channel, filmed in Hall's home studio or club venue, where Hall invites historic and cutting-edge artists to come and perform with him and his band for one- offsets. Guests include Smokey Robinson, Ceelo Green, Gym Class Hero's Travis McCoy, and an unmissable performance by The O'Jays. John Oates has kept more to himself outside of his world as half of arguably the most influential pop-rock duo in history. Writing songs, albums, and a memoir, he has evaded the heavy spotlight that Hall basks in. It's clear, however, that neither can stray too far from a musical venture with tours, co-projects, guest-spots aplenty.
For the first time in five years, Hall and Oates played a four-date UK tour with all dates selling out rapidly. Their final set of the British leg of their tour was in Glasgow's SSE Hydro arena with the support of Scottish sensation KT Tunstall. Ms Tunstall was an exquisite choice of support for the night. Not only could the lass sell-out nationwide shows of her own accord, but she is also from a town not too far from the venue called St Andrews, in the county of Fife. And there were plenty of Fifers in the house ready to cheer on their lady.
After shooting to fame in the mid-2000s with her debut album Eye to the Telescope, Tunstall has never been one to grab the spotlight and has allowed her music to grab the attention. She has suffered from serve hearing loss yet seems unfazed by this and since 2017 has been working on a trio of albums celebrating the soul, with the album KIN, the body, with album WAX, and the mind, album to be released.
Tunstall played a blinder at the Hydro. With a powerful, all-girl band, they'd displayed a strong connection between members as performed a synchronised routine. The five ladies looked strong and determined and it translated right into their set. Tunstall's sound has evolved from her folk-pop beginnings to a more modern heavy style that doesn't have the same energetic impact as her old belters. I think Tunstall made some mistakes by not playing anthem track 'Dark Side of Me' from the new album and including the much blander 'Backlash and Vinegar.' An incredible moment from her set was the stunning 'Black Horse and the Cherry Tree/Black Betty' mix as well the wonderful iconic tracks 'Saving My Face' and 'Suddenly I See' which Tunstall finished her set with. There was no doubt in any audience member's mind how KT Tunstall stormed into the charts over a decade ago but it's also clear that she has grown her style. However, she can still perform her most beloved tracks with more gusto and brilliance than the day they were written.
And then the stage was set for legendary pair to fill it. Between acts, the large stage side displays played footage from Live from Daryl's House, loading Hall up with even more loyalties and takings from the tour. Tickets for the night were incredibly expensive, with some paying upwards of £70 for the evening, and a large amount of the arena's upper-level seating was closed off to turn this show into a more select experience for all attendees. But problems with the set began right at the beginning with harsh feedback cutting the applause almost the second Hall and Oates took to the stage.
The group opened with the popular, toe-tapper 'Maneater,' a song that started it's beginnings inspired by a powerful woman that then grew to take its inspiration from late New York City. They then launched into a flurry of brilliant tracks from 'Out of Touch,' to 'Say it isn't so,' and 'Method of Modern Love.' But every track the played towards the start of the set was filled with the piercing ring of feedback which caused every member on stage to lose focus. Hall is stuck hand signing to sound technicians constantly to try and improve the sounds and delightful saxophone player Charlie DeChant has to move across stage, mid-performance, to share Oates mike. Hall is clearly thrown off his best by the technical issues, he begins playing songs which he quickly backtracks on, and airs a strong frustration to the crowd. Oates, however, seemed calm, cool and collected with the night's trials and tells Hall that although he may be confused, he is also charming; in other words, Oates reassures his friend that despite the challenges they're doing the best and that the crowd is on their side and so encouraging Hall to get on with it.
They then play their smooth cover of The Righteous Brothers' classic 'You've Lost that Lovin' Feelin'' and the sound quality has clearly started to improve. They played rarities like 'Is It a Star?' and emotional favorite 'Sara Smile.' Every solo is nailed and every member moves with a shared rhythm that can only come with decades of experience together. They closed the set with a glorious, glittery, hip-shaking number 'I Can't Go For That' and the sound is tight showing the studious work behind the scenes to right the initial wrongs of the set.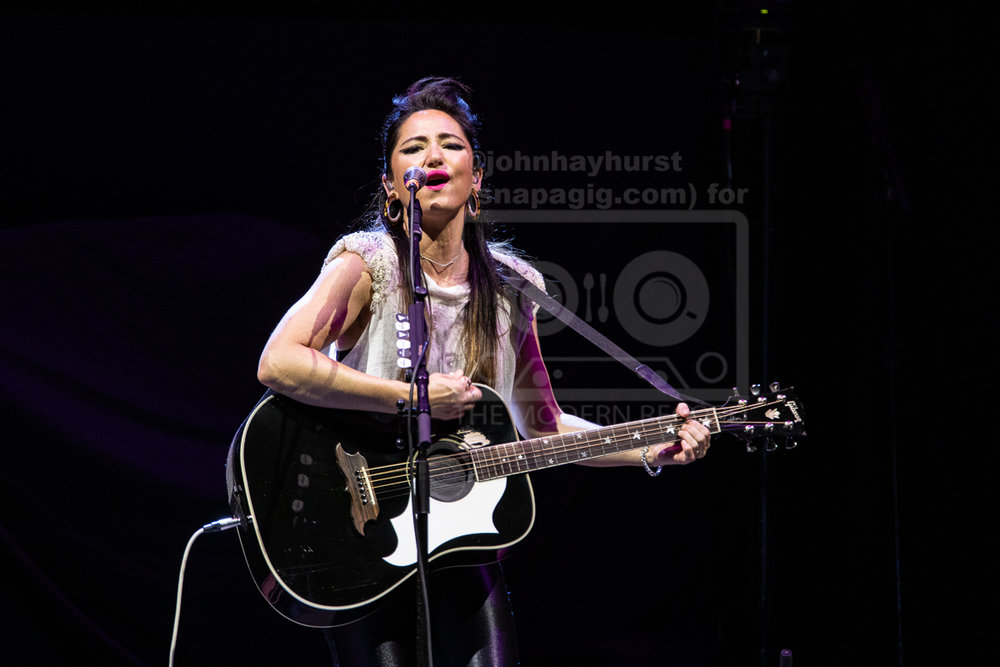 Their encore consists of some of the band's most commercially successful tracks including 'Rich Girl,' 'Private Eyes,' and 'You Make My Dreams.' Throughout the show, most of the fans had chosen to remain seated but now the whole auditorium was on their feet and moving in-time. Also worth noting was their stunning song-specific visual display put up on a screen behind the musicians. This was done immaculately and each visual enhanced the rhythm and inspiration of its matching song. The band came together and bowed before the crowd, the set had clearly been a challenging one, but the crowd saw what they had overcome and cheered louder for the legends.
Hall and Oats's performance was strained at times and a lot of fans would have let disappointed at the quality of some of their favourite tracks and some would have been bothered by seeing Daryl Hall so frustrated. But who can really blame him as his anger was caused by his desire to play flawlessly and see every fan leave happy? The set was a clear example of just how much goes on behind the scenes and how all the backstage crew need to perform at their best for a show to hit the heights it deserves. Hopefully, the night inspires around two from the pair with perfect technical execution, and hopefully with the brilliant track 'Adult Education' is included in the setlist.